THE FIRST TO FALL – NETHERAVON AIRFIELD, AUGUST 12th, 1914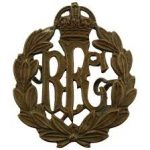 The First World War was just over a week old, when the inhabitants of Netheravon experienced their first taste of how dangerous and costly a war can be.  On that morning, a Bleriot Xl-2 Monoplane (pictured below), belonging to No.3 Squadron, Royal Flying Corps, crashed on take-off from Netheravon Aerodrome, killing its two occupants.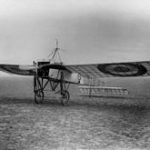 In that early morning of the 12th August 1914, No.3 Squadron of the Royal Flying Corps, one of the first four Squadrons to go to war, had finished their preparations and the aircraft were beginning to make the flight to France, with the remainder of the Suadron going by boat.  At 0515 that Wednesday morning, 2nd Leutenant Robin Skene, a native of Send in Surrey, and his Air Mechanic (1st Class), Raymond Keith Barlow from Grantham, both of "C" Flight, taxied their Bleriot Monoplane out of the aircraft sheds at Netheravon Aerodrome, and prepared to take off.  Their initial destination was Dover.  Skene and Barlow were the last of their Squadron to leave that morning.
James McCudden who was also a member of No.3 Squadron at the time, later wrote in his account of the war, 'Flying Fury, Five years in the Royal Flying Corps':
"On the morning of the 12th our four 80 h.p. Bleriots were lined up on the tarmac in front of the sheds at Netheravon at 3.30 a.m.  The NCO and the mechanics going by aire were Corporal Robins and A.M.s (Air Mechanics) Gardiner and Barlow.  At 4.30 a.m the sun rose on a beautiful summer sky, and all engines were started up. 'A' and 'B' flights went first, the first stop was to be Dover.  Of 'C' flight, lastly Mr Skene with A.M. Barlow."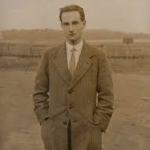 Pictured above: Robin Skene.
Although loaded with more weight than would have been normal in peace-time, the aircraft was not considered overloaded, and several other aircraft from the same Squadron had already taken off that day with similar loads.
This time though, very soon after take-off, and when at between 150 – 200 feet, Skene, describe as an experienced pilot, banked sharply to the left, which caused a dramatic loss of airspeed.  Robin Skene was crushed under his aircraft and Raymond Barlow, who was found a short distance from the aeroplane, had been thrown before the impact.  Both men died before medical aid could be brought to them.
Robin Skene, had earned his Aviators Certificate on the 21st July 1913 flying a Bristol Biplane at Brooklands.  He later obtained a Commission into the Royal Flying Corps Special Reserve the following November.  Following his death, Robin ws buried in his native Send, he was 23 years old.
Raymond Barlow had enlisted into the Royal Flying Corps on the 28th of August 1912 after having served a four year apprenticeship as an engine fitter in Manchester.  After his initial training at Farnborough, he was awarded his Air Mechanic Class 2 certificate on the same day as he attested (he was already a skilled mechanic).  On the 7th of July 1913, Raymond was awarded his Air Mechanic Class 1 certificate, and he was posted to No.3 Squadron at Netheravon.  Killed aged just 22, Raymond is buried at the cemetery in Bulford.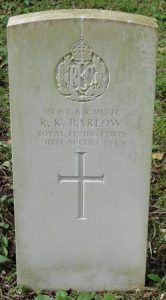 Because of the qualifying criteria of the time, the fact that they were in Britain when they were killed, and despite being the first members of the Royal Flying Corps to lose their lives in the war, neither Robin Skene or Raymond (Keith) Barlow was not awarded any medals after the war.
If the natives of Netheravon had need to be reminded that they were at war, they did now.