Private Kaye (Herbert, Robert)
Born in 1885 at Napier, New Zealand, to Charles Quane Kaye and Ellen. Ellen was born at Salisbury in 1848 but soon moved with her family to Netheravon where her father, now a widower, ran the Fox and Hounds Pub (now the Fox House) on the High Street. Ellen married 21 year old Jacob Sheppard, who was a blacksmith in the village and by 1871 they had 3 children, all daughters. In 1874 Ellen and Jacob decided to emigrate to New Zealand and on the 28th July they left London on a 4 month journey.
The family arrived on the eastern side of the North Island, mooring up at the bottom end of a feature called the Onepoto Gulley. They had to climb the steep sides of the feature and were then moved into military accommodation whilst they looked for employment. They spent 2 weeks in the accommodation before Jacob found a job with Mr McLeod in the township of Napier. Jacob was to contract Typhoid Fever and died. Ellen, now a widow, went on to marry a fellow passenger who had emigrated on the same ship that she had travelled on, Charles Quane Kaye, and gave birth to a further seven children, including Herbert.
On the outbreak of war Herbert joined the 21st Reinforcement Group, for the New Zealand Expeditionary Force setting sale for Plymouth on 19th January 1917. From Plymouth he travelled to Salisbury Plain where Herbert fell ill and was admitted to Tidworth Hospital, he died on the 29th May 1917, his body was moved to the Graveyard at All Saints, Netheravon, where his father erected a memorial over the grave.
To see where Herbert was born: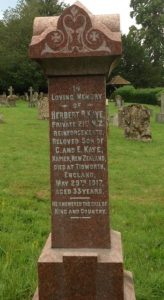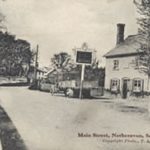 (above right): The birthplace of Herbert.