5064 Private Macklin (Alfred)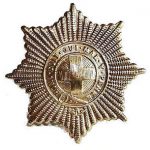 Address: Longstreet, Enford.
Regiment: 2nd Battalion The Coldstream Guards.
Born 1883, Alfred, the son of William and Emily (nee Cox) lived in a cottage in Long Street, Enford.
William worked as a farm labourer and carter. Alfred had a sister Bessie and brothers George, Arthur and Frank.
Joining the Wiltshire Regiment at 17, Alfred saw service in St Helena as a Prisoner of War guard and later joined the Coldstream Guards. In 1908, having left the Army, he married Ellen Beatrice Eyres, the daughter of William Eyres a farm labourer in Enford. They lived in Littlecott, Enford where Alfred worked as a farm labourer, their son, Reginald arriving in June 1909.
On the outbreak of war, Alfred was re-called to the Coldstream Guards and within 8 days they deployed to France and saw action in the retreat from Mons. At Christmas 1914, Alfred and his unit were in the front line. This sector was not involved in the famous Christmas truce and Alfred was killed by a sniper on Christmas Day 1914. His grave was lost and he is now remembered on the Le Touret Memorial.
His younger brother, George, served in the Wiltshire Regiment and was discharged in 1915 following severe wounds.