48636 Private Cox (Walter)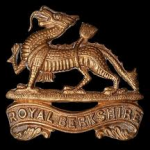 Address: Longstreet, Enford.
Regiment: Royal Berkshire Regiment.
Walter's parents, George a shepherd and Mary – both from Enford, married in November 1883, and lived in Longstreet. Their fifth child, Walter was born in 1900, and soon they moved to Wyle, where 3 more children joined them. George died in 1908 and Mary became a charwoman to support the family. Walter was still only 14 when war started, and may never have gone. However, by 1918 the age of enlistment had dropped to 18 with 6 months training before deployment. Walter was duly conscripted, and did his training in the UK and at Le Havre. He joined the 5th (Service) Battalion the Royal Berkshire Regiment at Warloy in April 1918, shortly after they had sustained nearly 50% casualties in a sustained German attack. Later on 10th August, in the Second Battle of the Somme, Walter's Division advanced nearly 3 kilometres and did much to prepare for the 100 days offensive which led to the Germans suing for peace. On 23rd August the advance covered an amazing 13.5 kilometres, but with heavy casualties. The next day's casualties were lighter, but included Walter, who is buried at the Peronne Road Cemetery at Maricourt. Mary chose the inscription 'God is Love'.