306735 Private Spreadbury (David, Frederick)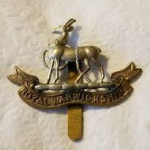 Address: Compton Beake.
Regiment: Royal Warwickshire Regiment.
Born in Enford in October 1881, David Spreadbury was the sixth child of Frederick from Enford, and Anne from Netheravon. The family lived in East Chisenbury where his father worked as a farm labourer. David's father died young and his mother was forced to take work as an agricultural labourer as did her elder children. By 1911, David and his mother lived in the small hamlet of Fifield where he worked as steersman for a steam plough.
In 1915, David, then aged 34, attested at Pewsey under the Derby Scheme and was called up in March 1916. He joined the 3rd Reserve Battalion of the Royal Warwickshire Regiment and completed his training in Portsmouth. In July 1916, he was sent to France as part of a draft of 249 men joining the 1st/8th Battalion shortly after the start of the Somme when the battalion lost well over half its strength on the first morning. After rest and training, the battalion rejoined the front line and on 27 August 1916, took part in an attack in the Ovillers area suffering 150 casualties. David was one of these, being listed as missing on the 29th August. His body was never identified and he is remembered on the Thiepval Memorial.