26937 Private Dear (Charles)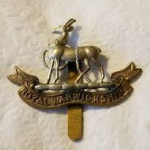 Address: Longstreet, Enford.
Regiment: 15th (Service) Battalion the Royal Warwickshire Regiment.
Charles Dear was older than most when he was conscripted in 1916, aged 36. He was one of two sons born to Edward and Ann who lived in Enford. Father and his two sons worked on the land: Edward as a farm labourer and then shepherd; Charles as a carter and his younger brother Frances as a plough-boy. Charles was 34 years old on the declaration of war and so unlikely to rush to join up. When mounting casualties resulted in the introduction of conscription, Charles was ordered to join the Royal Warwickshire Regiment and, after training at home and a Base Depot behind the Front, he joined the 15th Battalion in April 1917, shortly before the battle of Arras. A few short months later he was one of three Warwicks killed on 5 May 1917 when clearing a German trench line. His body lay where he fell, he is remembered on the Arras Memorial as having no known grave.