235476 Private Strong (Alfred)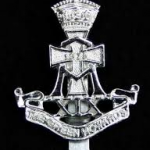 Address: Enford (East Chisenbury).
Regiment: 9th (Service) Battallion The Yorkshire Regiment (9 Yorks).
Born in 1888 Alfred was the fourth child of 11, Edward a farm labourer and his wife Emily (née Smith) . First in East Chisenbury, by the 1911 Census the family had moved to Rushall and Alfred was also a farm labourer. He married Sarah Jane Bowden from Poulshot on 5th August 1916 and later that year at the age of 28 he was conscripted into the Army and sent for basic training with a Training Reserves Brigade. Soon in France he did further training in a base depot and by mid 1917 had joined the 9th (Service) Battalion of the Princess of Wales Yorkshire Regiment. At the 3rd Battle of Ypres after a stupefying bombardment on the 20th September 1917 the Yorks assaulted along the Menin road ridge. The British Divisions took their objectives nearly a mile into the German lines, but the fighting was heavy and hand to hand. Wounded the same day Alfred was evacuated to a dressing station, but died 4 days later. Buried nearby his body has not been identified and he is remembered on the Tyne Cot Memorial. Sarah later married Henry Hawkins and moved to Potterne.