22348 Corporal Woodford (Charles) M.M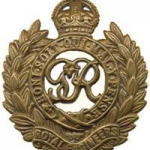 Address: Longstreet, Enford.
Regiment: Royal Engineers.
Born in Upavon in late 1891 to Frank and Lydia (nee King) Charles was the one of twelve children. The family moved to Endford in 1901 to live on the Longstreet. After leaving school Charles became a bricklayer but in 1909 as an eighteen year old he joined the Royal Engineers. Charles went to France in November 1914 and he survived almost four years at the Front, winning a Military Medal for gallantry in 1915. During the final phase in the 3rd battle of Ypres, or Passchendaele as it is also known, Charles was working with his unit carrying out engineering tasks and on the 21st October 1917 in the area of the Menin road, Charles was killed in action. His body was identified after the war and he is buried in the Railway Dugouts Cemetery near Ypres.