16096 Driver Neate (Egbert, Lewis) M.M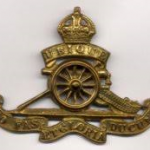 Address: Longstreet, Enford.
Regiment: Royal Field Artillery.
Egbert was the fourth child of Alfred and Emma Neate, both came from Enford. Alfred was a Thatcher and his elder son Frank an Under Crater, the family lived in Longstreet. Aged 14 Egbert left school and became a Thatcher's Boy, working with his father. It is likely that Egbert joined the Pewsey based Territorial mounted ambulance unit aged 17. On declaration of war he was called up and joined the horse drawn 85th Battery Royal Field Artillery (RFA) as a Driver, he was 18 1/2 years old when he arrived in France. Equipped with the 18 lbr Field Gun and 4.5 inch Howitzer the RFA provided close support to infantry formations – Egbert would have been involved in many of the major actions of the war. In April 1918 he was awarded a Military Medal, very possibly for gallantry during the German Spring Offensive. His award was gazetted on 26 August 1918, less than a month later he was wounded by German counter-battery shell fire during the Battle of the Hindenberg Line. He died in a casualty clearing station the following day and is buried, at Bevern-Ijzer Churchyard outside Ypres, alongside 3 comrades killed in the same artillery strike.