12954 Private Dear (William)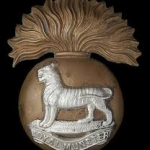 Address: Longstreet, Enford.
Regiment: 6th (Service) Bn the Royal Munster Fusiliers (6 RMF).
Born 27th July 1880 in Enford to Frank (from Enford) and Emily (from Beechingstoke). William had an elder sister and 5 younger siblings, 3
brothers and 2 sisters. The family lived with Frank's parents, George and Ellen Dear before moving into a larger house in Longstreet. William left school in 1901 to become a 'carter' on a local farm.
On the outbreak of war William and his brother Walter travelled to Devizes and enlisted into the Duke of Edinburgh's (Wiltshire) Regiment. Due to the rush to enlist the Wiltshire's had already achieved their quota so William was transferred to the 6th (Service) Battalion, the Royal Munster Fusiliers.
On 9th July 1915 William embarked on the Cunard liner MAURETANIA and set sail for the Eastern Mediterranean where he was to be wounded in fighting with the Turks, on 13th August he died of his wounds, he is remembered on the Helles Memorial. William's brother Walter was also to lose his life in the war and his younger brother Frank survived wounds.