12896 Private Pennells (Thomas)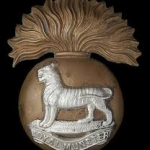 Address: 39 Longstreet,Enford.
Regiment: 6th (Service) Bn the Royal Munster Fusiliers (6 RMF).
Born spring of 1892 to Frank and Eliza (nee Hurkett) Thomas lived in No 39 the Longstreet Endford with his three siblings. The family later moved to Compton and in 1911 Thomas was recorded as being an under carter on a farm. Like many on the outbreak of war Thomas went straight to enlist in his local regiment but the Wiltshires were full he was sent with others from the village to join the 6th Battalion Royal Munster Fusiliers. The 6th Battalion Royal Munster Fusiliers were sent to the Dardanelles to fight in the Gallipoli campaign. Thomas was involved in heavy fighting culminating in a series of attacks over the 9th – 13th of August 1915 where his battalion was marked out for special recognition. On the 13th eight men from the Munsters were killed including Private Thomas Pennells, he was twenty three years old. Thomas' body was never recovered and he is commemorated on the Helles Memorial and on the Endford roll of honour.
Albert Drew
Born in Enford in late 1888 to Frank, a farm worker, and Sarah (nee Worsdell) Albert and his two siblings lived in a small cottage at Compton just North of Enford. In 1905 Albert's father died and the family moved to Tidcombe near Collingbourne Kingston and Albert became a carter on a farm. Enlisting in Pewsey in August 1914 Albert joined the 5th Battalion of the Wiltshire Regiment and was sent with that battalion to the Dardanelles to fight in the Gallipoli campaign. Having survived some of the hardest fighting Albert was one of many who became sick after living in the appalling conditions on the Gallipoli peninsula. Surrounded by unburied bodies, with little water and terrible sanitation he contracted enteritis and was evacuated to a hospital in the Port of Murdros where he died on the 10th of November 1915. He is buried in the East Murdros Military Cemetery.